Envision your future
Career service office
The Career Services Office at Hitotsubashi ICS offers a unique blend of career-related education and skill-building, with distinctly personal service and customized support for your job search.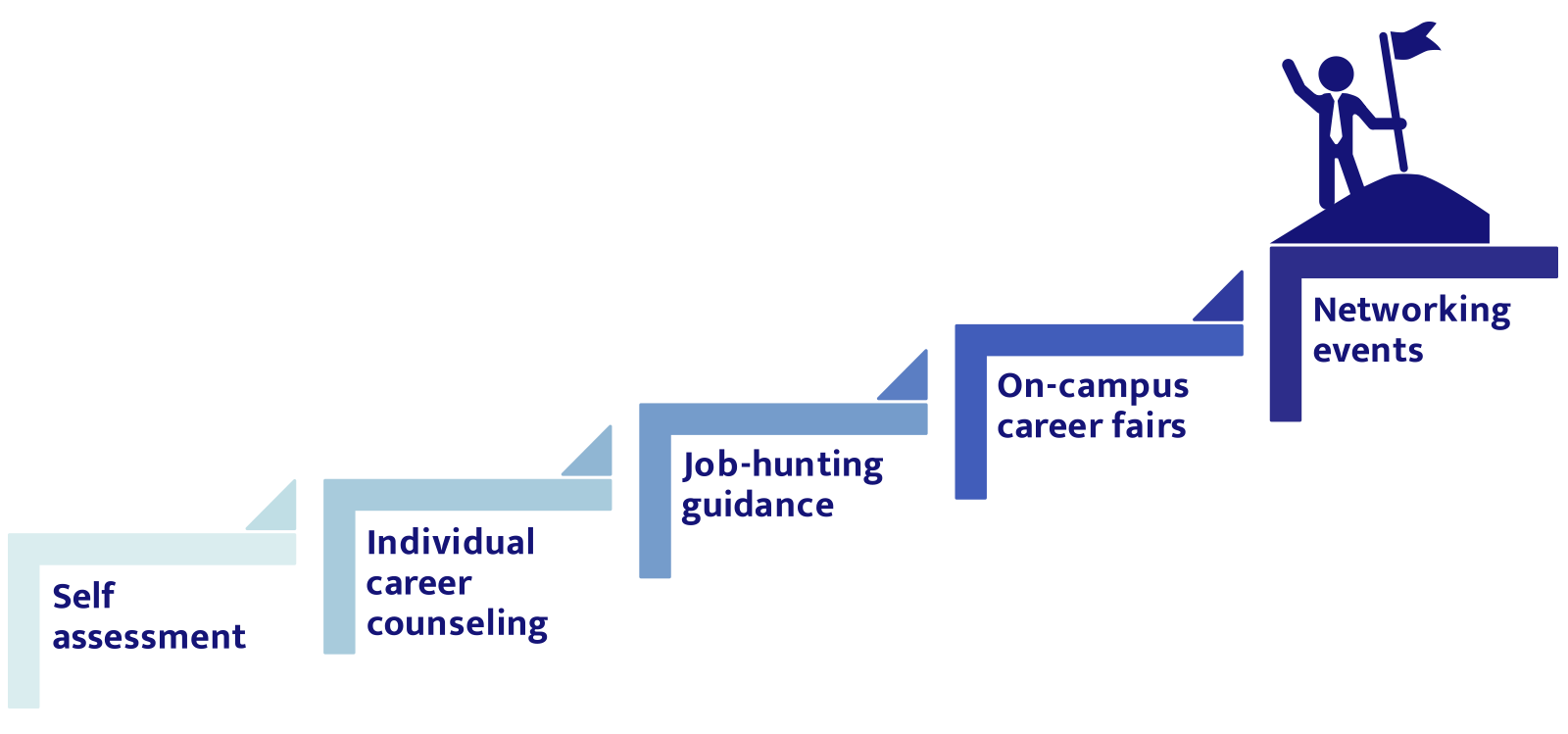 Meet your job search partners
Naoko Kasai

Director

Naoko Kasai, a graduate of Lancaster University Management School (Masters degree), where she majored in Organisational Learning, is a qualified industrial counselor and nationally-qualified career consultant.
After 15 years working for three investment banks (Barclays, JP Morgan, Macquarie), mainly as an IR professional, in both international and Japanese equities divisions, Naoko switched to the field of Higher Education, initially working as a designated mentor for the MEXT-sponsored special program at the Tokyo Institute of Technology. She then became a higher education career advisor, and has accumulated more than 3000 consultations with both Japanese and international students, mainly from Masters and PhD courses.
In addition to her role as Hitotsubashi ICS Career Services Director, Naoko is a part-time lecturer on Global Career Development Literacy.

Haruna Shiratori

Officer

Haruna Shiratori, who graduated from George Washington University with a BA in International Affairs, entered the field of International Education at Hitotsubashi University (Kunitachi Campus) in 2016. Prior to joining Hitotsubashi ICS, she worked at trading companies and an active sportswear company as an international marketing and sales, global operations and product development professional in New York, Osaka, and Tokyo. A holder of a Career Consultant Certificate (national qualification),
Haruna moved to Hitotsubashi ICS to pursue her main focus of providing career support for Japanese and international students with global experience.
Graduates facts & Figures
Placement by the numbers
In % of Hitotsubashi ICS 2021 MBA graduates *Exclude YLP students
94

Either placed or received an offer within 3 months of graduation

73

Placed in Japan

52

Placed with Japanese companies

39

Placed with foreign companies

27

Changed all three dimensions: country, function and industry
Hitotsubashi ICS MBA Graduates: Placement, 2011-2021
Financial services

AIG Japan Holdings Kabushiki Kaisha
Aon Benfield Japan Ltd.
Aozora Bank, Ltd.
APS Asset Management (Japan) Co., Ltd.
Bank of Brazil
Dai-ichi Life Holdings
Eurex Frankfurt AG (Tokyo Office)
Frontier Securities
Gearshift Group
G Three Holdings CORPORATION
Ichigo, Inc.
Manulife Investment Management (Taiwan) Limited.
Merrill Lynch
Mizuho Financial Group, Ltd
Mizuho Securities Co., Ltd.
Natwest Markets
Nikko Asset Management Co., Ltd.
ORIX Corporation
Pimco Japan
Plentina Lending, Inc.
SBI BITS Co., Ltd.
SBI SECURITIES Co.,Ltd.
Scrubbed.net, LLC.S
SMBC Nikko Shoken
Sompo Japan Nipponkoa Insurance Ltd.
Sumitomo Mitsui Trust Bank
Tokio Marine Holdings, Inc.
Tokyo Star Bank, Ltd.
Wise Payments Malaysia Sdn. Bhd.
YJFX, Inc.

Consulting

Accenture Japan Ltd
Aon Hewitt Japan, Ltd.
The Boston Consulting Group
BTS Japan K.K.
Deloitte Tohmatsu Group
The ERM International Group Limited
es Networks Co., Ltd.
EY Japan
Global Link Management, Inc.
JCA Holdings
KPMG Assurance and Consulting Services LLP,
McKinsey & Company Japan
Nomura Research Institute, Ltd.
Oliver Wyman
PM Global
PwC Japan Group
Qunie Corporation
Rise Consulting Group, Inc.

IT, e-Commerce, Cybersecurity

Amazon Japan K.K
Asrion Japan Holdings G.K.
Dassault Systèmes K.K.
Google Japan
Japan Computer Services, Inc
Kakaku.com, Inc.
Microsoft Japan
Marine Software
Murex Asia
NTT Data Corporation
Pactera APAC
Rakuten, Inc.
SB Cloud Corp.
SECOM Co., Ltd.

Retail

Adastria Co.,Ltd
Fast Retailing Co., Ltd.
Lawson, Inc.
Mercedes-Benz Japan
Narumiya International Co., Ltd.
Ryohin Keikaku Co., Ltd.
Tell a Tale, Inc.

Manufacturing

Apple Japan
ASM Japan K.K.
Daikin Industries, Ltd.
Konica Minolta, Inc.
LIXIL Group Corporation
Mitsubishi Fuso Truck and Bus Corporation
Nissan Motor Co., Ltd.
NS Solutions Corporation
Philips Japan, Ltd.
Shimano, Inc.
Sony (China) Co., Ltd.
Sony Corporation
WHILL, Inc.

Food, Tobacco, Consumer and Luxury goods

Ajinomoto Co., Inc.
Bandai Namco Entertainment Inc.
Coca-Cola Bottlers Japan Inc.
CTW Inc.
Japan Tobacco, Inc.
L'Occitane Japon, K.K.
LVMH Watch & Jewelry Japan, K.K.
Phillip Morris Japan, LLC
Robert Bosch Tool Corporation
Unilever Japan

Advertising, PR, Market Research, Education

Benesse Holdings, Inc.
Cicom Brains, Inc.
Dentsu, Inc.
Daishinsƒƒha, Inc.
Edelman Japan
Editorial Engineering Laboratory CO., Ltd
Hitotsubashi University
MarketShare
NPD Japan, Ltd.
RareJob Inc.
Sumitomo Corporation Global Research Co. Ltd.
Treasure Data inc.

Chemical, Healthcare, Pharma

Abbott Japan (Healthcare)
CMIC Co., Ltd.
Coloplast Japan (Healthcare)
Health Solution (Healthcare)
HOYA Corporation/Pentax Lifecare Division
IMS Japan
Medtronic Japan Co., Ltd.
Mitsui Chemicals, Inc.
Otsuka Holdings Co., Ltd.

Real Estate, Resort, Transportation

Class NK
CBRE Japan
GA technologies
Hoshino Resort, Inc.
Housebird Corporation
Jones Lang LaSalle, Inc.
RTek Inc.

Other industries

Allen & Overy LLP
Canadian Chamber of Commerce in Japan
en world Japan K.K.
Italian Chamber of Commerce in Japan
J-Power
Jera
Robert Walters
Shanghai Qianwang Keji Limit. Co.
Shizen Energy Inc.
Sojitz Corporation
White & Case, LLP