Hitotsubashi ICS Xlab
What is Hitotsubashi ICS Xlab?
ICS Xlab conducts a variety of experiments in the fields including psychology, economics, finance, business and management among different fields.
We always welcome new participants and researchers who wish to use our facilities at ICS Xlab!
Our Mission
Conduct cutting-edge experiments and contribute to the enhancement of academic research
Offer students and early-stage researchers opportunities to run their experiments and obtain empirical insights into their research projects
Provide access to our participant pool for researchers who cannot access one through their institutions
Register now to participate in our experiments!
Why Hitotsubashi ICS Xlab?
Reasonable compensation

By participating in experiments at ICS Xlab, you will receive payments. The amount of payments depends on each experiment, however the minimum payments is set at the minimum wage of Tokyo.*1

Open to anyone

Students of Hitotsubashi University as well as anyone who are above 18-years-old are eligible to participate in our experiments.

Academic contribution

You will take an important part of our state-of-the-art research. Be part of something you can be proud of!
*1 The payment systems are decided by researchers who are independent from ICS Xlab, hence are subject to change.
Facilities
ICS Xlab has great facilities which are desirable for both researchers and you as a participant. We provide an environment where participants would feel easy and comfortable during the experiments.
Cubicles to protect privacy

With an office cubicle provided for each participant, we assure your privacy during experiments. The anonymities of your answers are also protected.

Powerful tablets for computerized experiments

We provide Windows Surface Pro for each participant to smoothly run experiments.

Fast Wi-Fi

We have fast Wi-Fi that is solely for the ICS Xlab use. Hence, you do not have to worry about prolonged loading due to unstable Internet connection.

Support during experiments

What if you do not understand what to do during experiments? Do not worry! A wireless call button is set on your desk, and you can call our lab members any time for help.
Lab Members
Satoshi Akutsu
Professor at Hitotsubashi ICS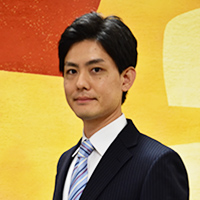 Shohei Yamamoto
Adjunct Assistant Professor at Hitotsubashi ICS & ICS Xlab Manager
Fumiaki Katsumura
Adjunct Assistant Professor at Hitotsubashi ICS
Access to ICS Xlab
Anyone is required to present a photo ID at a security check on the first floor of the building, so please do not forget to bring it!
1.Go to the 5th floor of the ICS building / National Center of Sciences.
2.Open a door leading into the hallway.
3. Turn left and open the first door where you see on the left with posters.
4. Follow the hallway along Student Lounge.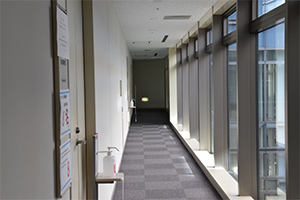 5. Turn right at the end of Student Lounge, then go straight.
6. Hooray! Here you are at ICS Xlab!